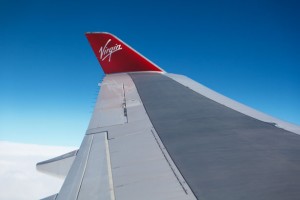 Since its IPO in November, Virgin America ($VA) stock is up almost 50%. It is poised to continue with low oil prices as they are forecast to stay around $60.00 a barrel for 2015. Those low oil prices are a good omen as they point to lower jet fuel prices but that is not the only thing Virgin has going for it. They offer an amazing flying experience (mood lighting and hip music giving it a chill vibe), at least in comparison to other airlines like Southwest ($LUV) and American Airlines ($AAL).
Virgin continues to improve what they do for their passengers. They have now completed their roll out of their new GOGO ATG Wi-Fi. They've done this throughout the entire Virgin America fleet. Talk about fast, this Wi-Fi offering is three times as fast as what Virgin American originally had installed. GoGo ATG flies at the fast speed of up to 9.8 mbps. That's a reason for the business class to fly Virgin America. DigitalTrends.com calls Virgin America their winner for the "most tech savvy airline" award.
One other improvement is their new codesharing agreement with China Eastern Arilines ($CEA).This is effective immediately and allows China Eastern passengers to land at Los Angles and San Francisco and be able to conveniently fly on to Virgin America destinations such as Dallas, Boston, New York JFK and Newark, Ft. Lauderdale, Washington D.C. and other locations. China Eastern flies daily flights from Shanghai to San Francisco and Los Angeles.
Virgin America does things right. It is poised to keep rising and until oil begins to rise back over $70 a barrel, Virgin America might just make it for the long haul.
DISCLAIMER:
(all opinions here are my own and I do not own Virgin America at this time. This is not expert stock advice, but simply my take on a stock I would buy if I could afford it at this time. Do not buy this or any stock unless you can afford money to be lost in the stock market. This statement is here only because we live in a highly litigious society. Sorry for the wasted time reading this if you are reading it. Have a great day.)