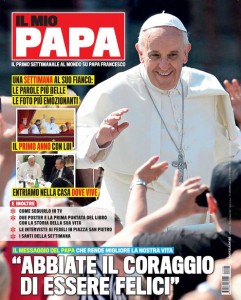 The weekly Pope Magazine, My Pope (Il Mio Papa in Italian, hit the shelves on Ash Wednesday in Italy. Yes, Pope Francis has his very own magazine. The first issue is 68 pages and it is filled with news about Pope Francis and filled with stories and tidbits about his life. He has almost been Pope for a year and Pope Francis is still living the life of a man on a honeymoon. If only all political and religious leaders could enjoy such a long lived honeymoon with the press and those they lead.
The magazine's editor says their aim in publishing this magazine is to be more noble than your typical fan magazine one might see for a popular boy band or individual artist like Justin Bieber, but each issue will still feature a pull out centerfold of Pope Francis. That sounds a lot like a boy band fan magazine to me. I wonder if Pope Francis cut a song and released it on the radio or on MP3, would it hit the top of the charts?
On a much more serious note, the publishers of My Pope Magazine (Il Mio Papa) are going to be in for a fight with the Vatican if they publish speeches and written words of Pope Francis. The Vatican owns the copyright to all of the Pope's writings and his image. There will be a battle if the Pope's words are published. The Vatican guarantees it.
Have you read the recent issue of My Pope Magazine (Il Mio Papa)? Have you seen a copy yet? Sure looks like a fan magazine and not very noble, but maybe in Italy, noble means something different than it does in America and in other parts of the world.