LAST UPDATE: In-N-Out Burger in Hurst is Open. Enjoy the burgers. They are the best!
LATEST UPDATE: I just talked to someone at In-N-Out HQ in California and the best guess they have is that the Hurst store will open in April. I was actually told they usually don't know the exact opening date until the week the new store opens. The Hurst In-N-Out Burger store will have open interviews on March 20-21. New stores usually open up 2-4 weeks after interviews are held. But no date is definite yet. Please +1 this post if you like these updates.
UPDATE: New Precinct Line & 183 In-N-Out Burger in Hurst, TX Opening in March 2012 (maybe). I actually first posted this news on April 16, 2011. For bringing this news to you first, please +1 this post or view our other posts. Thanks.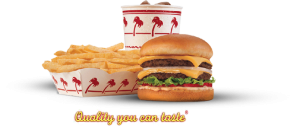 I'm from Chicago. If White Castle were to open a store in the Dallas-Ft. Worth area, I'd be more than a bit happy. I'd be ecstatic. It's not so much because the Sliders from White Castle are the best tasting hamburger in the world. It'd be because White Castle is a Chicago thing (at least in my case). It's an experience I always enjoyed as a kid and then as a tourist going back to Chicago after I got married. Unfortunately, my bride never shared my same enthusiasm for White Castle.
Just today, while taking her to work, she said, "Oh, that over there is going to be a Stop n Go Burger." I looked at her strange and asked, "You mean an In-N-Out Burger?"  She agreed with a "Yeah, yeah." Then she said her boss from Arizona went goo-goo ga-ga when she told him that it was coming soon. I knew In-N-Out Burger was coming to Texas, but I didn't know one would be right down the street from me in Irving.
So what is the big deal about In-N-Out Burger? After some research I found out that In-N-Out Burger has a secret menu that only the initiated know about and of course the clerks behind the counter. There's the Animal Burger, the Protein Burger, the 4×4 (I think that one's on the official menu). The 4×4 is four fat patties with four pieces of cheese. But you can order a 6×6 burger, or bigger, if your stomach so desires. There are even secret ways to order your fries, cooked longer, cooked a little less. There's even animal fries, those are covered with cheese.  If the guys at In-N-Out Burger ever dared say, "You can have it your way," they would mean it. Of course, if you knew the secret menu.
One thing for sure, the official menu at In-N-Out Burger won't confuse you. In it's sixty years of existence, I believe In-N-Out Burger has added only two items to their menu. Those two items, Dr. Pepper and Seven-Up.
In-N-Out Burger is expanding here to Texas. I'd heard of a few new stores opening across the Dallas-Ft. Worth Metroplex. There's one coming to Frisco, another over at Northwest Highway and Central Expressway, I've heard rumors of one at Precinct Line and 183/121 in Hurst behind QT, and now it's official, there's one coming to Royal Lane and MacArthur in Irving, Texas, right behind the Racetrac gas station. I know this location is coming soon. I saw the sign this morning that said so. By the way, this is a really good burger location for any hungry people. Right across the street is a new 5 Guys Burgers and a little further to the south is a new SmashBurger.
So, just to get you Texas newbies ready for In-N-Out Burger, I'm adding a couple videos below that might help you adjust to a new way of eating. And of course, here's the social media 411 for you.
Visit the In-N-Out Burger Website
Visit In-N-Out Burger on Facebook
View What They're saying about In-Out Burger on Twitter
Enjoy these In-N-Out Burger videos



This In-N-Out Burger video will make anyone hungry

.



This is hilarious and a great way to demonstrate the In-N-Out Burger secret menu
Everyone, enjoy your Irving, TX In-N-Out Burger experience!