Description: You will want to use statcounter.com to count your website visitors
Congratulations! You have a new website.
Now, what to do?
You probably have that figured out. You're either going to share your darkest secret in an anonymous blog site or you are creating a niche marketing site or maybe you have begun a movement to help heal the blind and you need to shout this good work to the world.
It is great to have a website but the question comes to mind, "Does anyone visit your website if you cannot see visitor stats?"
Yes, people visit your site if your pages are ranked in Google. Spammers and all sorts of bots will see visit your page whether you are ranked or not. But really, you have put a lot of effort into your website and you want to see detailed stats.
If you have a WordPress site, you can use the stats that come via JetPack or some other stat widget. However, many people have found the greatness that is STATCOUNTER.COM. I have been using statcounter.com since its inception, or so it seems. It's been about 10 years or so.
If you visit statcounter.com, you will find easy instructions on how to install the correct code onto any website platform. It's simple and you'll enjoy it. But I do want to offer you a warning. Look at the image below.

You will see in this bar graph sections that are green (total page views) blue (unique visitors) and orange (returning visitors). The blue is the most important stat. You need to know how many unique (different) visitors your site is attracting.
But there is a problem with how statcounter.com tracks visitors using the Safari browser on iPhones and iPads. Statcounter counts these visitors as unique for every hit they make on your site. If they visit 30 pages, your unique visitor count will be overstated. If you happen to have an Apple products niche site, you can imagine how incorrect your stats will be. The only real problem with statcounter.com I have experienced is this unique visitor problem with Safari browsers.
Learn More About…..




The way I work around this problem is go to my statcounter dashboard and click on the "narrow range" link at the top of the page. If your summary is on "daily" (the default) this will show only those stats from the specific single date range you have chosen. Afterwards, you will see "recent activity" showing only that day's stats and you will have to count them individually. Each page can be set to show 10,20,30,40 or 50 visits.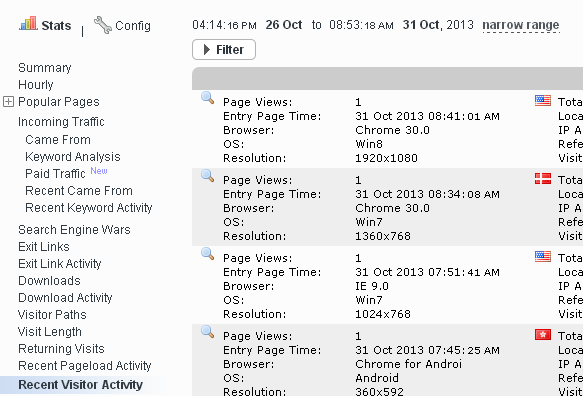 This may seem monotonous for StatCounter users, but it is a good problem to have. If you don't have this problem, you are experiencing a large bounce rate, meaning that people are looking at the first page they see on your site and they leave immediately. You want people to browse to many different pages on your site.
This little StatCounter hiccup would never stop me from using StatCounter.com. I love this free tool. You will too.
Visit StatCounter.com today to add their powerful tool to your site.