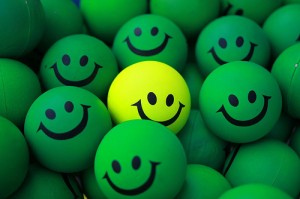 This world can be depressing at times. Now that's a great way to begin a blog post on tweeps who ooze encouragement, inspiration and positivity, isn't it? Sarcasm aside, I think this world needs more people on Twitter who can cheer up those who are having a bad day, lack inspiration or have been shot down by a discouraging word from co-workers, friends, family members, or by life itself.
I was just about finished with a new blog post about Twitter followers and I wasn't very inspired by it so I was in the mood to ditch it. While I was writing, I looked back at Twitter to see what was going on. I kept seeing tweets by Carrie Wilkerson a.k.a. @barefoot_exec. She was being so positive today. But I'll let you in on a little secret, I think she's like that all the time. Check out a few of her tweets today:
barefoot_exec Carrie Wilkerson
Today is going to be AMAZING!!! to quote Rapunzel in #Tangled… 'BEST. DAY. EVER!!!!!!' (Why? Because I decided it will be 😉
She followed with a reply to a guy who asked why her day was going to be amazing. He thought she was going to get married.
barefoot_exec Carrie Wilkerson
@hjortur nope – been married 19 ys…just DECIDED today is going to be amazing. it all starts with decision

have an amazing day yourself!
Carrie added a couple more positive tweets and then warned…..
barefoot_exec Carrie Wilkerson
today i am purging negativity from my tweet stream – i just don't need the toxicity…
Since I'm not the most positive person all the time, I double checked my follower list to see if she had purged me. Whew… her picture was still there. I would have hated to have her unfollow me after I just became hooked on watching her videos at barefootexecutive.tv. Great videos by the way. You must check them out. And guess what? Her videos are inspiring, encouraging and full of positivity. And not a teleprompter in sight. I was impressed. Even if she had unfollowed me, I'd still would have kept watching her videos. : )
I know some others on Twitter who are full of positivity and if you ever need those positive vibes or encouraging and inspiring words, you should follow @Lotay, @GrattonGirl, @OurTownMagazine, Rob Ross, @AnnTran_ and @AffirmationSpot
By the way, just checked Twitter once again and saw this tweet from Carrie:
barefoot_exec Carrie Wilkerson
do U GET how AMAZING U are? Mind-boggling. NO one else like U!! (that's a big responsibility to be U full OUT!)
Now that tweet reminds me of the Smile Video, no doubt about it. If you're looking for some good #FF (follow Friday) tweeps, put @barefootExec on top of your list and add the others mentioned above. You can't go wrong with any of these and you'll probably wind up a happier person because you follow them.
Now it's your turn. Which Twitter users motivate, inspire or encourage you? I want to have a definitive list so comment away and have a great day!!!!
Here are a couple great reads at Amazon on being and staying positive and the benefits of doing so:
Lift: Becoming a Positive Force in Any Situation


The Power of Being Positive: Enjoying God Forever