I've been following Chris Brogan on Twitter for a couple years. I enjoy his insightful tweets. and I was delighted to have his help (via a re-tweet) when I sold Christmas cards to  provide free cataract surgeries for the blind. But the other day I learned something about Chris Brogan I never knew before. I learned that Chris is a writer. What????? Didn't I know he could write before? Okay, allow me to explain.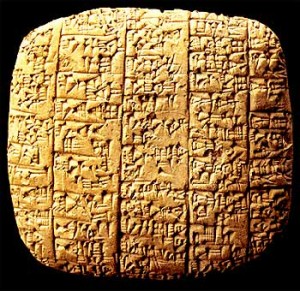 There are many different types of people in the wired world, but I'll focus on just two. Let's call these groups, "New Technology Embracers" and "New Technology Refusers." The embracers will stand in line for two days, outside a store in bone chilling temperatures to be one of the first people in the world to purchase a phone with brand new, never before seen technology (the next iPhone, a 6g phone, a 24" folding paper thin screen). They're the ones hopping on Twitter when it was in beta. They find the coolest apps and write about them on their blogs. These embracers are doing things on the internet that some of us probably won't experience for a year or so.
"If it's not chiseled in stone, I won't read it."
The refusers unwillingly accept technology and new media if they must. Either their job insists they learn new software programs, surf new media, use email or carry a cell phone at all times or maybe their grandkids are wired to the hilt and they want to stay in touch with them. These are the people who refuse new media at all costs.  They refuse to read an e-book, after all, they believe, "An e-book isn't a real book if I can't turn the pages in my hand." I guess that's similar to the invention of paper when the refusers back then grumbled and said, "If it's not chiseled in stone, I won't read it." You may not know these people, but they exist. 

I'll have to admit, that while I'm a fan of new media, I'm not the biggest fan of e-books. I tweeted once about an e-book I was promoting and said as an afterthought, "It's not a real book, just an e-book." They promptly tweeted back, "E-books are real books." Okay, that sort of changed my viewpoint a little, but I am still extremely traditional when it comes to my reading, a lot of people are. Refusers may also look at newspaper columnists and understand their worth as writers. If the refusers only see that column in a blog, they might ascribe less value to that piece of writing and maybe even to the writer himself. The refusers who view writing on the web and e-books as having less value than print are still around but are shrinking in number.
Personally, I still may not like e-books. But as for the value of writing on the web vs. the value of writing in print, I no longer will make snap judgments based on the location of where I read an article. Let me focus on the writing instead. I will now judge writing only on its content and style. Now back to how I found out that Chris Brogan is a writer.
As I was strolling the aisles of our local grocery store the other day, I stopped to look at magazines. I usually browse the money or business magazines. This evening, I picked up Entrepreneur. There were many great articles, one especially piqued my interest. I began reading and then thought, "This guy can write!" I looked at the author's name and in real small letters it said, "by Chris Brogan."  Right then and there I realized Chris Brogan is a writer. But it wasn't a blog and nothing like a tweet. This was in a real live magazine. I also discovered one more thing, that I was a refuser, especially in my attitude towards writers and their works. Well, no more of that for me.
Chris Brogan, without even trying, taught me that evening to respect all forms of writing, not just writing in print journals, newspapers, magazines and books. I also discovered that Chris Brogan is just as inspiring in print as he is on his blog.
What about you? Do you value newsprint over webprint? Did it take you a while to embrace new technology, especially Kindles, Nooks, and iPads? Or do you still embrace a nice paper book in front of the fireplace with a cup of hot tea on a cold winter night? Share your thoughts. I'd love to read them.
By the way, if you don't follow Chris Brogan on Twitter already, please do so, he's @chrisbrogan and his blog can be found at chrisbrogan.com